Grades K–6
The Beginning of a Hero™ is a series of two-minute audio presentations for use on elementary school intercom systems. These stories portray a wide variety of realistic scenarios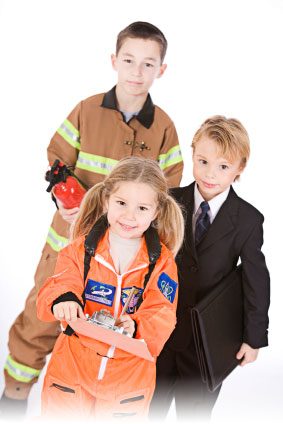 in everyday student life, whether in the classroom, on the school grounds, in the neighborhood, or at home. Through these stories, students vicariously learn:
• PERSONAL RESPONSIBILITY
• POSITIVE PERSONAL VISION
• POSITIVE RELATIONSHIPS
It also serves as a POWERFUL PROACTIVE BULLY PREVENTION PROGRAM and much more!  Each story introduces a negative or challenging situation that, through the power of choice (often introduced by a teacher, principal, counselor, parent, or peer) is turned around for a positive ending. The common language throughout the program is that HELPING is the opposite of hurting, and that a person who HELPS is known as a HERO, whether HELPING others or HELPING one's own future self. Each of these stories opens with the words "A HERO is a person who does special things to HELP others. Every HERO starts out as a child and every child can CHOOSE to become a HERO." And each story ends (music up and under) with the words: "That's what I know about the beginning of this HERO, and I know that you can become a HERO, too!"
The Beginning of a FAMOUS Hero™ is a series of two-minute stories that spotlight famous people of great accomplishment in HELPING others—the people we call "HEROES!" Just as these people started out planting seeds of accomplishment in their own childhoods, these stories encourage young listeners to follow the examples portrayed here. These stories are about people who have already faced the challenges of childhood and actually became what The Beginning of a Hero™ stories suggest.
Each segment of The Beginning of a FAMOUS Hero™ is:
A Lesson in History
Students learn about the HEROES who have positively shaped our society and contributed greatly to the good of mankind.
A Lesson in Character
These stories point out positive attitudes and personal vision demonstrated by these people, even during their childhoods!
Inspirational
Students can better identify with such adults of great accomplishment when stories are told about their childhoods.
Motivational
Students are encouraged to follow the examples of other children who grew up to be HEROES!
BONUS — In schools using The Beginning of a FAMOUS Hero™, librarians report that students are asking to check out biographies!
These two sets of stories serve as one program designed to be played on the school intercom (or in a regular school-wide assembly where all students AND teachers are present) twice a week (typically Tuesday and Thursday) throughout the school year. This program "Combines the ART of storytelling (a POWERFUL teaching tool) with the SCIENCE of Spaced-Repetition," and has proven itself highly effective.
With your school's paid membership, you will receive 72 stories each school year. With your annual membership renewal, you will receive ALL NEW stories each subsequent year to keep the program fresh. Plus, you'll have FULL ACCESS to all resources on our website, including parent participation!
All of these stories are available in video format as well.