Dear Principal,
As you know, the BUDGET CRISIS in Education is unprecedented!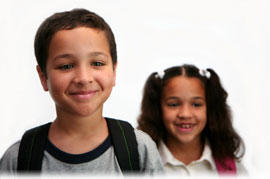 Meanwhile…
BULLYING has become the nation's number one social concern for our schools!
In an effort to assist in both areas of concern, The Character Network™ is offering a proven effective, proactive BULLY-PREVENTION PROGRAM for your school.
When you become a member of The Character Network, your school will receive a unique Site License Number that will activate your site license. Then you will have FULL ACCESS to all resources available from The Character Network. PLUS, you'll be able to share them FREE OF CHARGE with parents and students at home!
This program is amazingly EASY to use…
It does not take precious time away from classroom instruction.
In fact, this program requires

onl

y

4 minutes a week

!
The elementary school program consists of two pre-recorded and professionally produced sets of two-minute stories to be played twice per week on the school intercom during morning announcements (or in regularly scheduled school assemblies). AND…you will receive all new audio/video sets with all new stories each new school year!
For elementary schools, 0ne set of stories is entitled Bully Alert!™ while the other is called The Beginning of a Hero.™
Click here to listen to samples!
Simply play a story from each disc one day per week throughout the school year for all students and teachers to hear. (Typically, stories are played on Tuesday and Thursday mornings during morning announcements.)
You can explore sample stories by clicking Bully Alert!™ and The Beginning of a Hero™
The lessons of these stories will soon become a campus-wide expectation… again, in only 4 MINUTES A WEEK! Responses have consistently shown that the academic language of the program will become internalized by your students in a very short period of time! With everyone then having the COMMON LANGUAGE this program produces, it becomes easy for administrators and teachers to simply back it up in teachable moments: "A bully is a person who hurts others on purpose (even if it's just hurting their feelings) but a HERO is a person who HELPS others…so choose to become a hero who helps, instead of a bully who hurts!"
See what other educators are saying about the RESULTS they're finding by using this program. View video testimonials here.
To learn more about this program and how it can dramatically impact the culture of your campus, please view the short introductory video.
Your annual Membership is only $749.00.
Join The Character Network TODAY.
It's very easy! You have THREE options:
– Option ONE –
Simply download the 2014-2015 Membership Agreement Form.  Then, print, complete, sign, and FAX to 903-586-4418 or scan to PDF and email to Info@TheCharacterNetwork.org.
Then pay electronically with PayPal or a credit card.
– Option TWO –  (By Mail)
Simply download the 2014-2015 Membership Agreement Form. Then, print, complete, sign, and mail with check or purchase order to: The Character Network | P.O. Box 8484 | Jacksonville, Texas 75766
– Option Three –  (Third Party Partner)
Simply download the 2014-2015 Partnership Agreement Form. Print, complete, and sign. Then identify a third-party funder. (This option is very popular!) It can be your PTA/PTO, or any local business or service club. Note, in the event that a business or service club wishes to partner with you, each story may end with, "Provided through a partnership with First State Bank," or "Provided through a partnership with your local Kiwanis Club," etc. There will be a $100 studio charge added to the site license fee for customized acknowledgements. But, if the same partner funds multiple schools, the studio charge applies only once per school year. Once your partner has agreed to fund your license, simply call us at 1-800-364-6883, and we will complete the transaction with your sponsor.
Again, see what other educators are saying about the RESULTS they are finding with their use of this program!www.TheCharacterNetwork.org/Testimonials
If you have ANY QUESTIONS please don't hesitate to call toll free, 800-364-6883.
Sincerely,
Jim Lord, Founder
The Character Network | P.O. Box 8484 | Jacksonville, Texas 75766
800-364-6883 (toll free) | 903-586-4418 (fax)
http://TheCharacterNetwork.org | http://Twitter.com/JimLordPresents https://www.facebook.com/TheCharacterNetwork

Bully Prevention / Positive Personal VISION
Live Assembly Programs are Available, too!